Shari Baloch Attacks China at University of Karachi, Galvanizes Revolutionaries Across Balochistan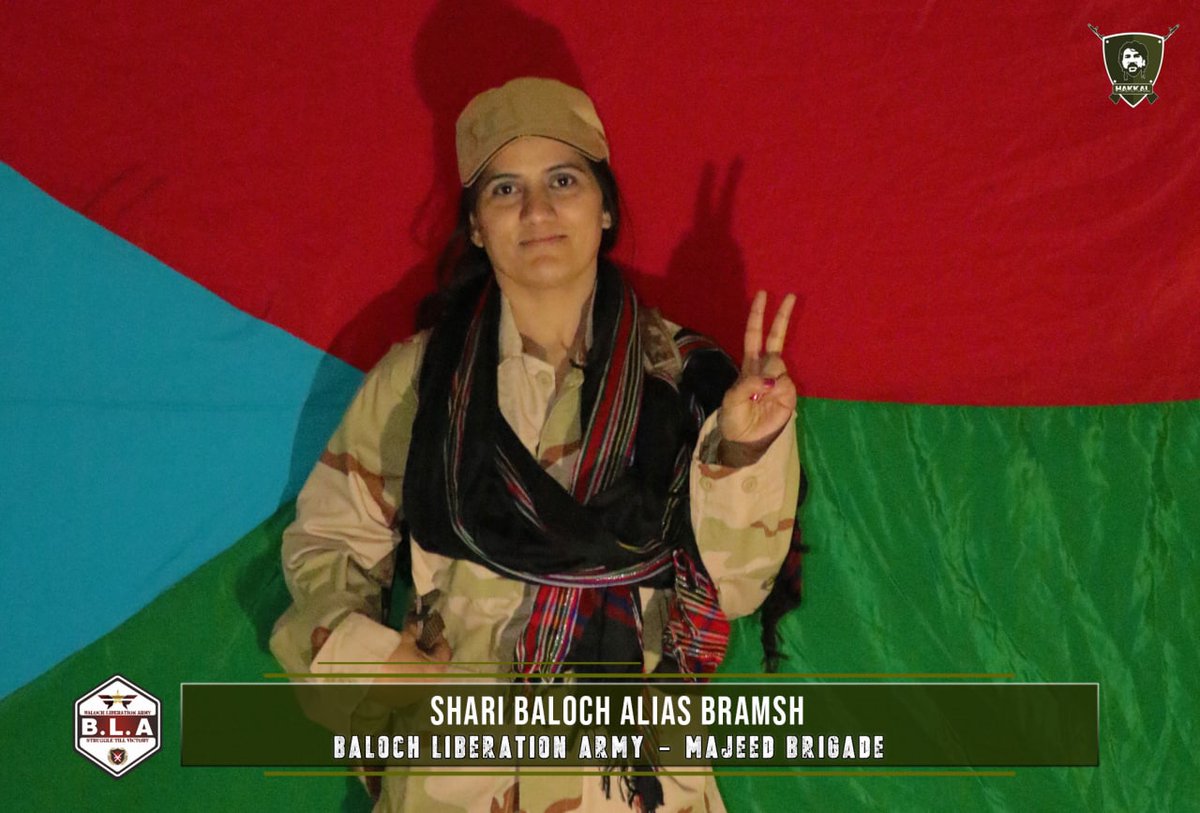 It is the mother who takes a nation to greater heights. It is the mother who leads a revolution. Shari Baloch, alias Bramsh, is one such revolutionary mother who blew herself up at the gates of the University of Karachi, killing three Chinese officials and seriously injuring another.
It wasn't a suicide bombing, mind you. Shari Baloch was a proud mother of two and a caring wife. A postgraduate, Shari was pursuing a master's degree in philosophy. and could have had a great career for herself. Yet she chose to be a revolutionary, became the first woman fidayin for the Majeed Brigade of the Baloch Liberation Army (BLA) and attacked China in Karachi.
Why? asks the civilized world.
Yes, it is indeed a tragedy that a well-educated Baloch mother had to blow herself up at the University of Karachi for the civilized world to take notice of the inhumane atrocities committed by Pakistan and China across Balochistan.
Over seventy thousand innocent Baloch men, women and children have been abducted by Pakistani security forces and intelligence agencies across occupied Balochistan. The unfortunate family members know nothing of the fate of their loved ones who have just "disappeared". More than ten thousand Baluchis have been "killed and dumped" by Paki forces over the past decade. And these are not blank statistics, rather a huge tragedy.
The entire indigenous Baloch population is being wiped out and the world doesn't even know it. The Baluchi genocide must have made international headlines every day. Is not it? Do we see debate, discussion and/or opinion pieces on the Baloch massacre? No None.
In 2020, widespread protests erupted across occupied Balochistan following the cold-blooded murder of Hayat Baloch. Hayat was a student and was returning home from college when he was shot dead by Pakistani forces. The only "weapons" found in his possession were a pen and some books! In any part of the world, the cold-blooded murder of a student by security forces would have been all the rage, but not in Pakistani-occupied Balochistan. The flow of information and news emanating from Balochistan is strictly regulated. Hardly anyone in the "civilized world" has heard of the brutal murder of Hayat Baloch. All five-star human rights activists continue to maintain a deafening silence.
Hayat Baloch was not the only one to have been assassinated by Pakistanis. Taj Bibi, Naz Baloch, Karima Baloch, Shahid Hussain… the list of Baloch massacred by the Pakistanis seems endless. There have been instances where Paki forces have sent mutilated corpses to Baloch mothers on Eid day, with'Eid Mubarak' inscribed on the chest of the dead son.
Ironically, the civilized world has never dared to question Pakistan or China about the Baluchi genocide. Worse still, it seems they don't care about Balochistan. Part of this indifference stems from West's appeasement policy toward Chinese dictator Xi Jinping.
"We have now become accustomed to picking up the corpses of our loved ones," a Baloch mother said emotionally at a recent discussion forum. Faced with such a catastrophe, the only option left to Baloch mothers is to take revenge and revolt. And that's precisely what Shari Baloch did on April 26 when she turned into a human bomb.
Shari Baloch targeting the Chinese officials of the Confucius Institute in Karachi was the result of deep thought.
"Targeting the director and officials of the Confucius Institute, a symbol of Chinese economic, cultural and political expansionism, was to send a clear message to China that its direct or indirect presence in Balochistan will not be tolerated. The BLA has repeatedly warned China to refrain from looting Baloch resources and assisting Pakistan militarily and financially in carrying out the Baloch Genocide. However, China continues to be involved in its expansionist designs in Balochistan," reads the Baloch Liberation Army (BLA) press release.
Shari Baloch had joined the Majeed Brigade of the BLA two years ago and voluntarily pledged to sacrifice (fidayin) assignment. In accordance with the procedure established by the BLA Majeed Brigade, Shari Baloch was given time to reconsider her decision. "During these two years, Shari served in different units of the Majeed Brigade. Six months ago, she confirmed that she stood by her decision to commit a self-denial attack. After that, she became actively involved in her mission," BLA explained in its statement.
And that's only the beginning. In the space of three months, the BLA's Majeed Brigade carried out three high-profile attacks that shook the morale of the Pakistani military. On February 2 of this year, sixteen highly motivated BLAs the faithful attacked Pakistani military bases at Panjgur and Nushki killing over 190 Pakistani soldiers, many of whom were elite SSG commandos from Pak. On April 26, Shari Baloch attacked China, Pakistan's partner in the Baloch genocide, in Karachi.
It would do the civilized world some good if it tried to understand the underlying reasons that prompted a Baloch mother to leave her family and lay down her life for the greater good of Balochistan. It is only when the civilized world plays deaf and dumb that revolutionaries are forced to shed blood.
The success of a revolutionary is measured by the profound psychological impact created by his actions on the masses. And therein lies Shari Baloch's achievement. A deadly attack on Chinese officials in Karachi by a Baloch woman shattered several glass ceilings. Besides Balochistan, Shari Baloch galvanized other oppressed peoples such as Sindhi, Pashtuns and Hazaras who were the victims of Pak-China tyranny.