Martyred when he was just 22, this freedom fighter defines the spirit of Gandhi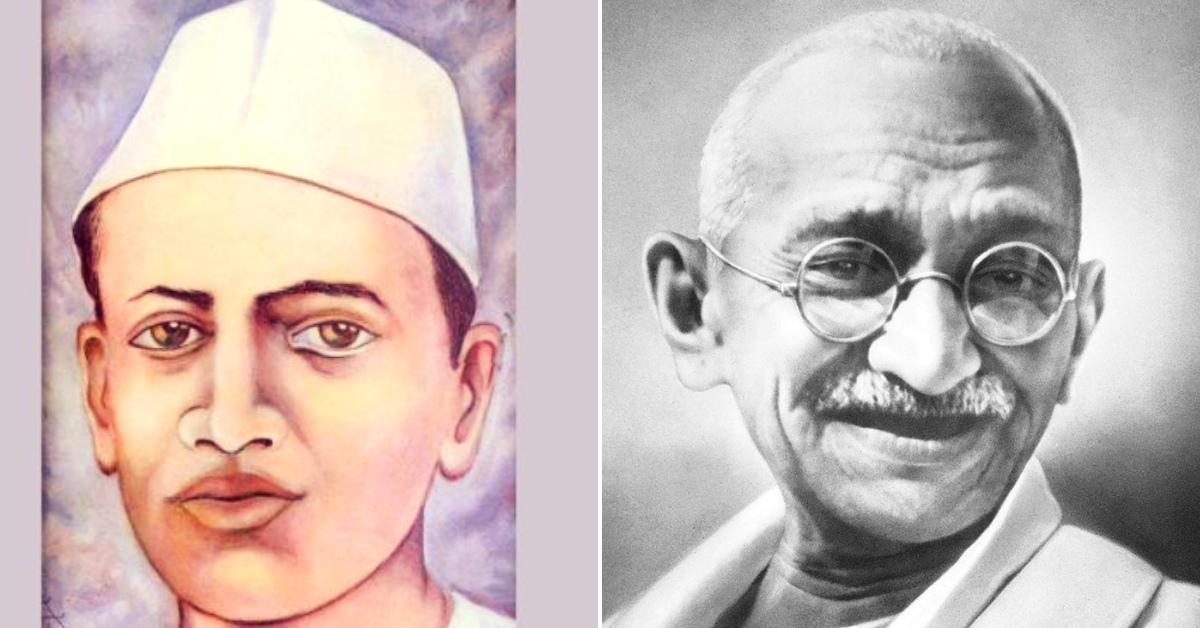 ---
To honor this nation's Independence Day, we bring you the fascinating stories of #ForgottenHeroes of #IndianIndependence that have been lost among the pages of history.
---
Ahe public discourse on the struggle for Indian freedom against British colonialism mainly revolves around its main protagonists – Mahatma Gandhi, Sardar Patel, Lala Lajpat Rai and Sardar Patel to name a few.
That's not to say their contributions weren't critical, but often forgotten in these discussions are the foot soldiers who often paid the ultimate price for the collective vision of an independent India.
One such hero of the independence movement was Bābu Genu Said, an illiterate cotton mill worker and trade unionist, who embraced Gandhi's vision of Swadeshi and made it his mission to defeat the forces of economic colonialism, using non-violent means.
Bābu was only 22 when he was mercilessly run over by a truck carrying foreign-made clothes in Mumbai's Kalbadevi district as he tried to stop the truck from passing through the area.
Today, the area is home to a long-standing Swadeshi market.
Born into a poor farming family in 1908 in Mahalunge Padwal village of Pune district, Bābu never received a formal education. His father, a farmer, tragically died when he was only two years old. The turning point came when, shortly after his father's death, the family ox, a prized asset used for farming, also died.
This incident left Bābu's mother no choice but to leave her village and find work in Mumbai. She left Bābu, her two older brothers and her sister, in the care of neighbors, while finding work as a housekeeper in Mumbai. A few years later, he joined his mother in the city.
As his mother could not support him, Bābu soon found employment as a casual laborer in the factories of Mumbai (then called Bombay).
Despite his lack of formal education or his inability to find regular work, he did not sit idly by and actively engaged with the local political forces of the time against colonial rule. Although he was deeply admired by figures like Lala Lajpat Rai, Bhagat Singh, Rajguru and Sukhdev, it was Gandhi who had the greatest influence on him.
Gandhi's ideas of non-violence and satyagraha resonated deeply with the young revolutionary. However, it is his engagement with the Swadeshi movement – the economic strategy aimed at removing the British Empire from power and improving economic conditions in India by following strategies involving boycott of British goods and revival of goods and processes national production companies – which had the most impact. influence on him.
He has participated in multiple protests organized by freedom fighters against the import of foreign-made fabrics. In fact, Bābu's legacy as a revolutionary freedom fighter stems from the price he ultimately paid to defend the Swadeshi movement.
"He [ Bābu] understood that the geostrategic interests of British rule in India. He knew that economics was the engine of British rule; the establishment of the British Raj was only a ruse to perpetuate the economic dominance of the British over India. It was in this context that Bābu Genu understood the socio-economic and political arguments advanced by Gandhi and its significance. This meant that if British rule were to be economically unsustainable, it would collapse as there would be virtually no incentive for the British to continue their rule in India. He knew that India's economic independence was linked, intertwined and integrated with political independence," writes Sri Kashmiri Lalmember of Swadeshi Jagran Manch.
Understanding these dynamics, on December 12, 1930, Bābu and his fellow freedom fighters organized a protest against the transport of a truck carrying foreign-made fabrics through the Kalbadevi region.
Manchester cloth merchant George Frazier, who owned the shipment of overseas-made clothes, was protected by British police.
"They were protesting by prostrating themselves on the road, refusing to let a truck pass. Although there are different accounts of the precise events of the afternoon, the history books state that Genu was run over by a truck in a deliberate act of police brutality," reports The Indian Express. Other accounts, however, present a fascinating but tragic sequence of events.
Protesters stood in front of the oncoming truck carrying a batch of clothing, but were quickly pushed aside by the accompanying group of police. Even though the police did everything possible to prevent Bābu and his colleagues from participating in this movement, they remained firm in their resolve. The truck driver – Balbir Singh – a fellow Indian drove the truck close to the protesters but never intended to run over his fellow Indians.
The police again intervened and physically dragged the protesters off the road, allowing the truck to pass. However, Bābu Genu let them down and again lay down on the road in non-violent protest, begging the driver not to drive the truck and singing the praises of Gandhi and the freedom movement.
When the police ordered driver Balbir to run over Bābu, he responded by saying, "I am Indian and he is also Indian so we are both brothers to each other so how can I murder my brother?"
"Seeing the procrastination of the Indian driver, the British sergeant lost his temper and took it upon himself to drive the truck at full speed onto Bābu Genu crushing his head and leaving behind a pool of blood and a mass of flesh" , tells this graphic account of the incident.
Also Read: Martyred at 26, this Naga freedom fighter has a story every Indian should know
Bābu was taken to the nearest hospital but soon succumbed to his injuries. What followed was a massive wave of strikes and demonstrations held across the city with its residents raging against what was essentially murder. The British administration had the nerve to call it an "accident", but the townspeople didn't see it that way. His spirit and his sacrifice
In today's context, Bābu's ideas may seem a bit anachronistic, but he was a man of his time. He knew what British economic imperialism was doing to the local economy and opposed it.
His spirit and sacrifice have been commemorated in Mumbai, Pune and even Delhi. There is a Babu Genu road in Mumbai with a memorial plaque commemorating it. There is even a land with his name in Navi Mumbai and a Chowk in Pune. However, ask anyone who wanders around, and many would not know who this man really was and what he stood for.
We hope to change that.
(Edited by Gayatri Mishra)
Do you like this story? Or do you have something to share? Email us: [email protected], or connect with us on Facebook and Twitter.