Generals praise General Tumwine as a freedom fighter who served the country diligently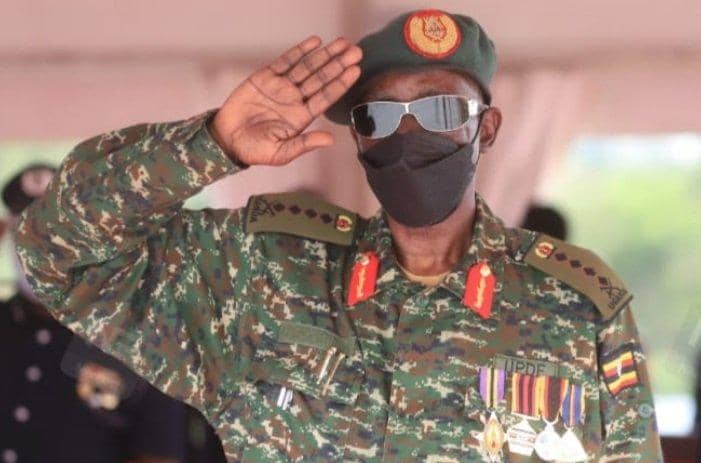 Members of the armed forces both retired and serving have praised the late General Elly Tumwiine, who breathed his last at AghaKhan Hospital in Nairobi, Kenya.
President Yoweri Museveni, commander-in-chief of the armed forces, described Tumwine as a dedicated and hardworking cadre.
Former army commander and comrade in the struggle, Major General (Rtd) Mugisha Muntu said: "To the wife and children of the late General Tumwiine and to the fraternity of the UPDF, I express my deepest condolences. We go through life on earth full of complexities from birth until we leave. is only by the grace of God that we can navigate it successfully.
Fellow comrade General Henry Tumukunde noted that he was saddened by Tumwine's death, saying he will be remembered for his determination and commitment to the fight.
"All of us, especially those who fought alongside General Elly Tumwine, remember his determination and deep commitment to the fight. May his soul rest in peace" – General Henry Tumukunde. #RIPGenTumwine pic.twitter.com/aOU5QHLZQ7

— SoftPower News (@SoftPowerNews) August 25, 2022
"I am saddened to learn of the passing of our Chief General and former Minister @GenTumwine. My deepest condolences go out to you Jolly, the children and the UPDF family. My thoughts and prayers are with you at this difficult and trying time. Each of us, especially those who fought alongside him in Luwero, remember his determination and deep commitment to the struggle, may his soul rest in peace," Tumukunde tweeted.
GEN ELLY HAS COME HOME! You've danced with death your whole adult life because that's the soldier's way! And you acted like you did 'when you know death so well, you have more responsibility for life'. To Jolly&Chidren, may the LORD comfort you! At NRA/UPDF, a HERO has gone home! pic.twitter.com/j0SHAGaEFs

— sejusadavid (@sejudav) August 25, 2022
Former Army Commander and Transport Minister General Edward Katumba Wamala said: "I have received the sad news of the death of General RO/00023 Elly Tumwine. I send my heartfelt condolences to HE @KagutaMuseveni, General Tumwine's family, the UPDF/NRA fraternity and all whose lives he touched. RIP soldier!" he said.
I have received the sad news of the death of General RO/00023 Elly Tumwine.

I send my sincere condolences to HE @KagutaMuseveniGeneral Tumwine's family, the UPDF/NRA fraternity and all those whose lives he touched.

RIP soldier! pic.twitter.com/aieAy7GTSZ

— General Edward Katumba Wamala (@GenWamala) August 25, 2022
UPDF Ground Force Commander Lt. Gen. Muhoozi Kainerugaba said, "Rest in peace, General Tumwine. Immortality means 'He is without father, without mother, without genealogy, he has neither beginning of days nor end of life…he remains a priest forever (Hebrews 7:3)'. May Almighty God receive you in His eternal arms Afande Tumwine.
Minister of State for Agriculture, Bright Rwamirama, said Tumwiine spoke with such praise and affection of his country, Uganda: "Knowing that he was serving Uganda as a military officer and general brought him to unending joy, and his kindness will not be forgotten.…He was a top performer in his line of duty. His accomplishments were well deserved. RIP Gen. AND a freedom fighter .
Major General David Kasura-Kyomukama noted that he considered General Tumwiine a hero, a leader, a teacher and a beacon for the revolutionaries.
"It is with great sadness that I learned of the passing of @GenTumwine, my eldest, my mentor for 41 years. We considered him a hero, a leader, a teacher and a beacon for the revolutionaries. The only way to honor him is to try to imitate his good deeds,"
Adding: "On behalf of the group of soldiers he mentored, I wish to offer my condolences to his family. It is my prayer that God grant his soul eternal rest in peace and grant his family strength during this difficult time.
Also read: https://softpower.ug/sad-news-nra-liberation-commander-gen-elly-tumwine-is-dead/
Agriculture Minister Frank Tumwebaze said: "My sincere condolences to the family of the Honorable @GenTumwine, to the @updf_ and to the @Parliament_Ug where he sat for quite a long time. I pray that Almighty God will comfort his wife and children in this most trying time of grief. May you rest well, great patriot.
During Thursday's plenary, Security Minister Major General Jim Muhwezi revealed that the government had launched plans to repatriate General Tumwine's body.
Vice President Thomas Tayebwa asked the House to observe a minute of silence in honor of Tumwiine. He said the deceased left an indelible mark on the stability of the country.
"We have lost a gallant man, a person who has been a colleague, interacting with us here and a historical who ushered in the revolution, alongside our president. It is very sad for us because every time we lose one of us in this Chamber, a dark cloud hangs over the whole institution," Tayebwa said.
He added that Parliament will liaise with the government to pay tribute to General Tumwine.
The House observes a minute of silence in honor of General Elly Tumwine, who died earlier today in Nairobi. #PlenaryUg pic.twitter.com/hoFvTTW8Qc

— Parliament of Uganda (@Parliament_Ug) August 25, 2022
"When the time is right, we will be guided. But I urge the Head of Government to liaise with the Leader of the Opposition so that a motion is prepared to pay homage to our deceased colleague," Tayebwa said.
General Tumwine served as the UPDF's representative in Parliament from 1996 to 2021. He also served as Minister of Security from 2018 to 2021.
At the time of his death, General Tumwine was a senior presidential adviser.
He joined the resistance in 1979, trained as a cadet in Monduli, was the one who fired the first shot at Kabamba on February 6, 1981, and has been part of the leadership in various capacities ever since.
He was injured in Bukomero and lost an eye. He has always been a dedicated and hardworking executive, the UPDF said.


Post views:
107