Freedom fighter 'Didi de Dangs' dies at 103 in Surat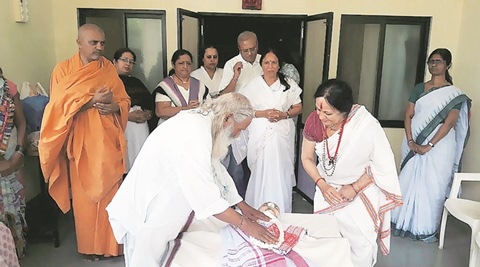 Poornima Arvind Pakvasa, the mother of Odissi freedom fighter Sonal Mansingh, died Monday at the age of 103. A prominent social worker who has worked for the empowerment of tribes in the Dangs, where she has spent her entire life, Pakvasa was cremated on Tuesday in the presence of her dancing daughter. Pakvasa is survived by two daughters – Aarti and Sonal – and a son, Anuj. While Sonal lives in Delhi, Aarti and Anuj are based in Mumbai.
Pakvasa's work in the district had earned him the epithet of "Didi of the Dangs". She was sent to prison for participating in Dandi's march. She meets Kasturba Gandhi there and teaches him English. She established the Ritambhara Kanya Vidyapith at the Saputara hill station in Dangs district, southern Gujarat, where the tribal girls were educated.
Officials of the Dangs district administration, as well as the leaders of various parties, participated in the funeral procession, which started from Saputara and gathered in Nawagam. Her three children and their children attended the funeral. With them, more than thousands of students from Ritambhara Kanya Vidyapith came to pay them a last tribute.
[related-post]
Hasmukh Desai, head of the school, said: "We have lost a great soul and we feel orphaned. Poornimaben was bedridden due to poor health and age. I was by her side on the school premises late Monday night when she breathed her last. We immediately called his children and informed them of his death. We organized the prayer on Wednesday afternoon in the school premises.
Pakvasa first met Mahatma Gandhi in Ranpur when he was eight years old. She joined the Limdi freedom struggle movements in Saurashtra and the Dandi March. When she was 18, she was jailed for participating in Dandi's march. Kasturba was one of the detainees. Pakvasa taught English to Kasturba who in turn taught him yoga and self-defense.
In 1969, Pakvasa founded Ritambhara Kanya Vidyapith in Saputara in the Dangs and dedicated his entire life to empowering girls and tribal women. In 2004, she received the Padma Bhushan.
WATCH INDIAN EXPRESS VIDEOS HERE