Officials defend the deputy commissioner for development after criticism from deputies on the occasion of the park's inauguration
---
---
Political unrest continued over the newly opened Simpson Park in Hazaribagh with a descendant of a freedom fighter threatening to start an unrest if the park's name is not changed.
Sachidanand Pandey, a descendant of freedom fighter Jai Mangal Pandey, on Thursday announced it would start an unrest if the administration failed to change the name to Simpson Park. Talk to The online telegraph On Wednesday, he had expressed his dismay at the name.
In support of his claim, Sachidanand said former British Deputy Commissioner Captain Simpson was known for his brutality and was behind the hanging of 150 freedom fighters in Chatra, including Jai Mangal. Pandey. Notably, Captain Simpson had ordered the construction of a pond, which has now been renovated into a park and bears his name.
"I met with Deputy Commissioner Bhuvnesh Prata Singh about this, asking him to take action to change the name of the park. He assured us the same. I await his decision now, "Sachidanand said, adding:" Otherwise, I will start a stir with my family. "
Bajrang Dal chief Sanjay Choubey supported Pandey, criticizing the administration for giving too much respect to a British captain, who had killed scores of Indians.
Meanwhile, zilla parishad officials came to support deputy development commissioner Vijaya Jadhav, who has come under fire for failing to invite some lawmakers to the park's inauguration.
Barhi MP Uma Shankar Akela had objected to why two former MPs, namely Manoj Kumar Yadav and Janki Prasad Yadav, were invited to the ceremony, but not her and other sitting lawmakers. Likewise, the congressional legislator of Barkagaon Amba Prasad has stated that the MLA fund can only be used in the area under the jurisdiction of the relevant legislator.
Officials lashed out at MPs, saying no one had worried about the pond's poor condition before.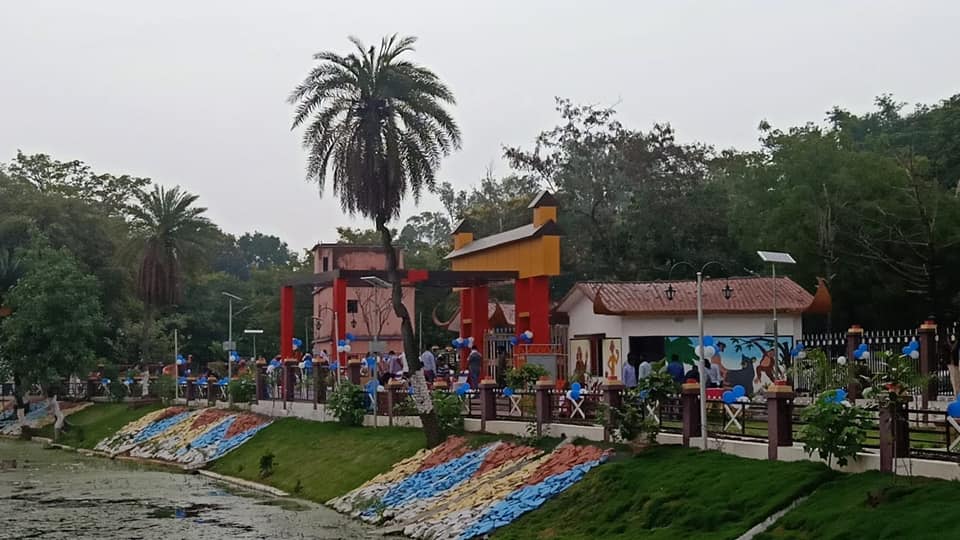 Interestingly, the zilla parishad himself was not aware that he was the warden of the park. Until October, the district municipal corporation received income from meat vendors and other vendors, who had illegally encroached on the edge of the pond. The pond had turned into a garbage park even as meat vendors spilled blood from animal carcasses, turning the water red.
Shortly after Jadhav became deputy development commissioner, she asked the sadar circle officer to provide her with all the details related to the pond.
In letter number 2029 / 21.10.19, the circle officer confirmed that the 1.12 acre pond is owned by zilla parishad. With the necessary information, Jadhav cleared the encroachment and launched a clean-up and beautification campaign.
Following this, she contacted the elected officials of the zilla parishad to obtain financial assistance to transform the area of ​​the pond into a park.
The park was inaugurated on Sunday evening jointly by three deputies.