Century-old freedom fighter Rajabhau Deshpande is no longer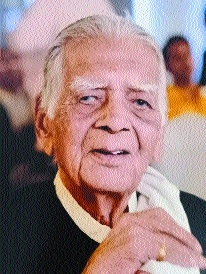 Journalist :
Veteran freedom fighter Rajabhau aka Prabhakar Lakshman Deshpande, who celebrated his 100th birthday in December 2020, breathed his last on Saturday morning at his Dhantoli residence here. Rajabhau Deshpande is survived by his wife Sudha, three sons, namely Ajit (retired High Court judge), Anil (former cricketer Ranji) and Sanjay (businessman), his daughter Deepa Khandekar and a crowd of loved ones to mourn his loss. The last rites were performed in Mokshadham. Rajabhau, as he was popularly called, was a freedom fighter. He had actively participated in revolutionary activities during the struggle for the freedom of the nation. At his residence in Dhantoli, he had received training in bomb making from Parimal Ghosh of Bengal. During the Quit India movement of 1942, he used his bomb-making skills in what would come to be known as the "Telangkhedi Bomb Case".
He was sentenced to two years in prison in this case. After his release from prison, in three years, India gained independence from the British Raj. He married Sudha Patwardhan, niece of Dadasaheb Shewde who had argued his case in court. On the occasion of the Silver Jubilee of India's independence, the central government had honored him with a "Tamrapat" and a certificate for his participation in the struggle for Indian freedom. He celebrated his 100th birthday in the same house where he was born. On December 4, 2020, he celebrated his 100th birthday. Ravindra Thakare, district collector, had personally visited Deshpande and greeted him with a shawl, shreefal and a bouquet of flowers.