Alluri Sitarama Raju's family shares memories of a freedom fighter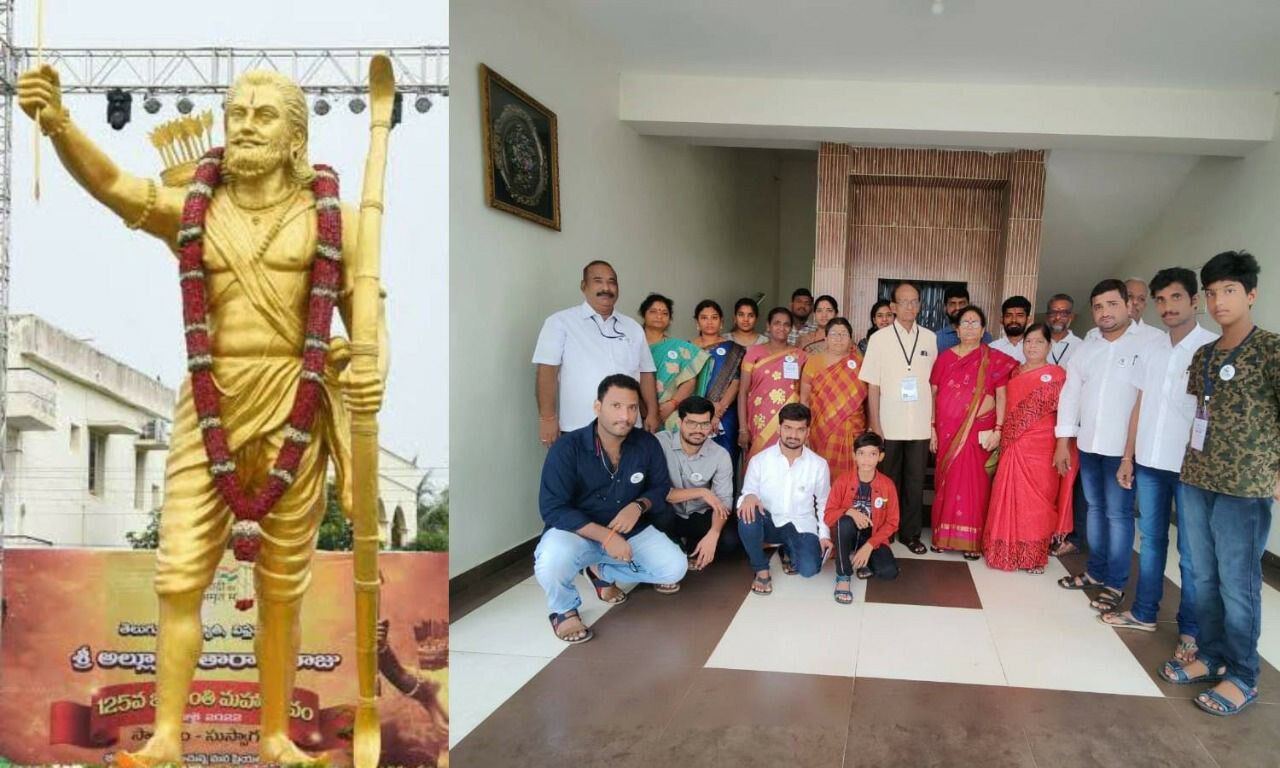 Alluri Sitarama Raju: "To everyone, Alluri Sitarama Raju is a revolutionary freedom fighter, but to us, my grandfather was a multi-talented person who was excellent in archery, astrology, horse riding , in Ayurveda and was a great follower of Kali Matha. My grandfather Alluri Satyanarayan Raju used to say that people never know the other side of his brother Alluri," said Alluri Sri Rama Raju, 32, grandson of freedom fighter Alluri Sitarama Raju .
The people of Andhra Pradesh know Alluri as 'Manyam Veerudu' who opposed the British in response to the Madras Forest Act of 1882 which restricted the free movement of Adivasis (tribal communities) in their forest habitats and prevented them to practice a traditional form of agriculture known as 'podu'. On India's 75th Independence Day, as the nation celebrates 'Azadi ka Amrit Mahotsav', Alluri's family who call him 'Chitti Babu' share their memories of the freedom fighter.
Chitti Babu remembers
"During our childhood, we used to hear many stories from my grandfather about his brother Alluri who often visited our village of Mogallu in West Godavari. His name was Chitti Babu but his real name was Alluri Srirama Raju. In British times, he was given the name Sitarama Raju," his grandson said.
"Aluri is said to be the first freedom fighter to use a pre-announced guerrilla attack against the British. Before attacking police stations in Visakhapatnam and Godavari areas, he had a unique way of sending messages to British authorities called 'Mirapakaaya Tapa' or 'Chilli Post'. He used to shoot an arrow with a bunch of chillies and a typed message with his signature "Alluri Srirama Raju" in the Telugu language," he added.
Family of 38
With 38 family members, the Alluri family settled in different parts of Andhra Pradesh. To pass on the Alluri name to subsequent generations, one person in the family even goes by the name Alluri Srirama Raju. "My grandfather is a retired teacher and lives in Burugupudi village in East Godavari. After Alluri's death at the age of 27, he is still remembered for his actions. My grandfather told stories about his fight for the tribes," Srirama Raju said. who is a nutritional wellness coach at Bhimavaram.
In remembrance of their grandfather Alluri, his grandchildren ensure that they are part of his birthdays and anniversaries.
Manyam Veerudu
Alluri known as "Manyam Veerudu" was born in Pandrangi village in Padmanabham mandal in Visakhapatnam district. According to the story, after the death of his father, Alluri's education was interrupted, and he went on pilgrimage and visited the west, northwest, north and northeast of the India during her teenage years.
"After a few years, Alluri decided to go to the agency to meditate, leaving everything behind. The socio-economic conditions under British rule, especially in the tribal areas, moved him deeply. tribals, Alluri wanted to start a movement. He taught Ayurveda to the tribals, educated them and got them off alcohol," said Alluri Srirama Raju.
A proud family
On the 75th Independence Day of India, Alluri's family spreads the message of instilling patriotism. Prime Minister Narendra Modi recently unveiled a 30ft tall bronze statue of Alluri Sitarama Raju in Bhimavaram as part of 'Azadi Ka Amrit Mahotsav' celebrations. "It is a proud moment for the Alluri family to see the Prime Minister speaking about Alluri. Now not only India, other countries are hearing stories about Alluri," said Srirama Raju who visited to Delhi to participate in the 75th Independence Day celebrations.