17 Kashmiris martyred in Indian state terrorism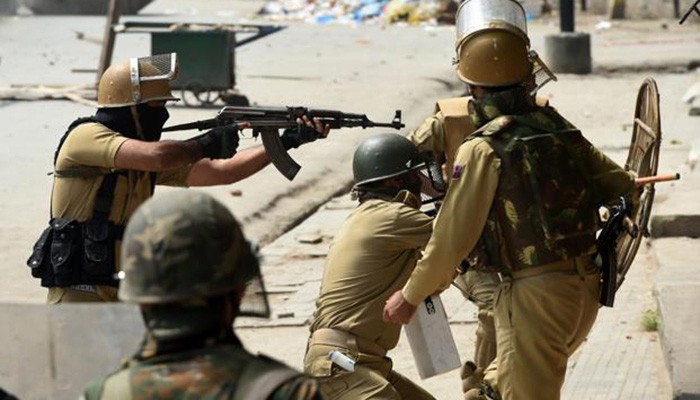 [ad_1]
ISLAMABAD: At least 17 young people from Kashmir were martyred after Indian troops conducted cordon and search operations in the Islamabad and Shopian districts of Held Kashmir, according to the Kashmir Media Service.
Police chief SP Vaid said in a statement that 13 "suspected militants" were killed in two shootings with Indian forces in districts of southern Kashmir. Seven of the martyrs were slaughtered in Dragad and four in the Kachdoora quarters of the Shopian district. Two civilians, identified as Jan Mohammad Lone and Zubair Ahmad Butt, died of their injuries in hospital. Jan Muhammad Lone resided in Braipora, Shopian, while Zubair Ahmad Butt was in Gopalpora, Kulgam.
Earlier, Indian troops martyred a youth identified as Rouf Bashir Khanday during an overnight operation at Dialgam in the district of Islamabad. Some of the young martyrs have been identified as Yawar Itoo, Nazim Nazir, Adil Thokar, Ubair Shafi Malla, Rais Thokar, Ishafaq Malik and Zubair Turay.
In addition, hundreds of civilians were injured when Indian forces used brute force and fired pellets, bullets and tear gas at protesters in the Dragad and Kachdora areas.
Shopian District Hospital's medical superintendent (MS) Dr Shafat told media they had received more than 50 injured. Many of them have been transferred to hospitals in Srinagar for further treatment. "We are unable to maintain the injured record due to the high traffic," Dr Shafat said.
According to Indian media reports, the meetings, which started late on Saturday, ended Sunday morning in the Peth Dialgam area of ​​Anantnag, but continued in the villages of Dragad and Kachdoora of Shopian.
IHK police claimed that three Indian soldiers and 13 "suspected militants" died in the IHK clashes. He said four civilians were also killed and dozens injured when police opened fire on thousands of protesters who took to the streets, throwing stones and chanting slogans against Indian rule.
There were also protests in Srinagar, where authorities ordered all schools closed on Monday.
Indian Army spokesman Col. Rajesh Kalia said the operation in Dialgam, carried out by police, army and CRPF, was completed and weapons and ammunition were recovered from the area. site.
Following the brutal operation, IHK people called for a two-day closure across the territory.
A strike call was launched by the Joint Resistance Leadership (JRL) made up of Syed Ali Gilani, Mirwaiz Umar Farooq and Muhammad Yasin Malik against the killings.
Meanwhile, dozens of students from the University of Kashmir (KU) staged a protest on the Zakura campus in Srinagar against the Shopian and Islamabad killings. Shouting pro-freedom and anti-India slogans, student protesters carried banners reading "End the occupation, free Kashmir".
Many civilians in the IHK support the leaders of the freedom movement who have fought for decades for independence or for a merger with Pakistan. Tens of thousands of people, most of them civilians, have died.
Pakistan condemned the violence as a "wave of senseless killings" and said those slaughtered were innocent. "Such cowardly actions of the occupation forces only serve to strengthen the resolve of the Kashmiri people," the foreign ministry said in a statement.
The Foreign Office further said Indian forces were continuing to crack down on unarmed protesters in occupied Kashmir and India had suspended the internet connection to stifle people's voices.
The statement further added that India was playing the role of a tribunal, lawyer and executioner for the mass execution of Kashmiris.
Last year was the deadliest of a decade in the region, with more than 200 young people accused of activism who were martyred in a counterinsurgency offensive dubbed "Operation All Out". This upsurge in violence intensified in 2018, with 51 young people accused of activism already killed this year.
PPP co-chair Asif Ali Zardari strongly condemned the killing of innocent Kashmiris by Indian forces and called on the United Nations to take note of this bloodshed.
In a released statement, Zardari said India has violated human rights in Kashmir for a long time, which is a violation of the United Nations Charter. He said the voice of the Kashmiri people will not be silenced and the PPP will continue to support Kashmir's just cause through diplomatic and moral means.
[ad_2]